News and Events
At Kingswode Hoe we have a busy programme of events, activities and highlights throughout the year. We have a very inclusive approach and are committed to ensuring all pupils have access to trips, opportunities and experiences to help develop a wide range of skills, in and outside the classroom.
Children in Need
This year, we raised a huge £588.78! The day consisted of various activities, such as baking cookies, making Pudsey hats, making games, making stress balls and lots more! The pupils then gathered in the Hall, a class at a time to sell their creations by setting up a stall. Pupils were extremely enthusiastic and managed to sell ALL of their items.
We would like to say a big thank you to the Beardwell Construction team for their generous donation.
Spanish Language and Culture Day
The whole school had a fantastic time during the Spanish Language and Culture Day recently. The pupils enjoyed a range of Spanish related activities including a Rafa Nadal tennis challenge, flamenco dancing and making a Spanish style fan to keep them cool during the hot weather we had on the day. As well as dressing up in the colours of the Spanish flag, the pupils located Spanish speaking countries using an atlas, learnt a Spanish folk song La Cucaracha and made their own Spanish omelette in food technology.
The day was a huge success and enjoyed by everyone. Thanks go to the staff who ran a workshop, especially Mrs Baker and Miss Jones who flamenco danced all day in the heat!
Autism Anglia Silly Sock Day
On Friday 5th April we had silly sock day. Pupils and staff wore their silly socks for a donation. We raised £65 for Autism Anglia. Our winner of the silliest socks was Riley in Primary.
Mercury Theatre Workshops-spooky stories!
Sports Champions UK
In March, Kingswode Hoe School pupils were involved in a whole school sponsored fitness challenge, led by visiting athlete Laura Samuel, a British track and field athlete. She has a personal best of 14.09 m for the triple jump event, which ranks her third among British women.
Laura's visit was organised by Sports Champions UK and the school chose to donate their share of funds raised through sponsorship to Sport Relief. Laura led a question and answer session with Year 11 pupils, followed by a talk and demonstration to the whole school in a special assembly. She presented certificates and photographs to fund raisers.
Pupils and staff enjoyed taking part in the fitness challenge and hearing her inspirational story. They also loved having the opportunity to see a real silver medal up close from the 2014 Commonwealth Games.
We would like to thank everyone who supported this special event and provided sponsorship for pupils. Thanks also to Mrs Allen and Mr Govia for organising this exciting opportunity.
World Book Day Celebrations
World Book Day was on Thursday 2 March which gave Kingswode Hoe the opportunity to celebrate reading and encourage pupils to explore the pleasure of books. To mark the occasion, pupils were invited to draw a picture of their favourite book character and explain what they like about them. I received so many entries and whilst I thoroughly enjoyed looking at them all, there could only be six winners:
Jake, Melissa, Charlee, Ashleigh, Alexander and Oliver.
Congratulations to these pupils and thank you to everyone that entered. I look forward to planning an even bigger celebration next year!
Miss E Parbury
MESSA Swimming Competition

The MESSA Swimming Competition took place at Colchester Leisure World on Wednesday 11 January. Five schools took part in the competition this year, which added to the atmosphere as swimmers took to the water. The event tested all of the swimming disciplines including freestyle, backstroke and breast stroke, with many swimmers having to take part in two or three different events. There were some outstanding performances from our swimmers this year especially from our new competitors Benedict from Year 8 and Ashleigh from Year 6.
Market Field School were the current champions although we had won the title in 2015 and we were determined to try our best to wrestle the trophy back! Out of the 24 races entered, we scored points in every single race. At the end of the individual races it was a three-way battle between Kingswode Hoe, Market Field and Endeavour School. The relay race would determine the overall winner and we didn't disappoint. With victory in the over 13's boys relay and a respectable second place in the girls race, we clinched the victory.
I would like to congratulate all of the swimmers that took part; they displayed fantastic effort, behaviour and respect throughout the day. The next competition is the MESSA Basketball taking place at Columbus School on February 10. Can Kingswode Hoe make it four wins out of four?
Parent comments
We were sad to say goodbye to our Year 11 leavers but have appreciated some wonderful comments from the parents of the leavers thanking the school.
We are extremely proud of the comments and always strive to do our best for every pupil in the school.
"We will always look back fondly on the opportunities that the school gave ____. The staff have always done their very best for _____ and would could not ask for more. We will always be eternally grateful to you all for your help and support."
"Thank you so much for teaching, caring, challenging, laughing and working with_____ over the last seven years."
"Thank you all for your very individual ways of supporting _____ in this very special school. Each and every one of you have helped to mould him into the young many he is today. We have been privileged to have an amazing bunch of staff to support us all through it. I am so proud of how _____ has turned it around and forever thankful for all your hard work, love and dedication."
Woodland Trust Green Tree School Silver Award
We are delighted to announce that we have recently been awarded our Silver certificate from the Woodland Trust as part of their Green Tree Schools Award scheme. The scheme is a fantastic way to celebrate woods and trees.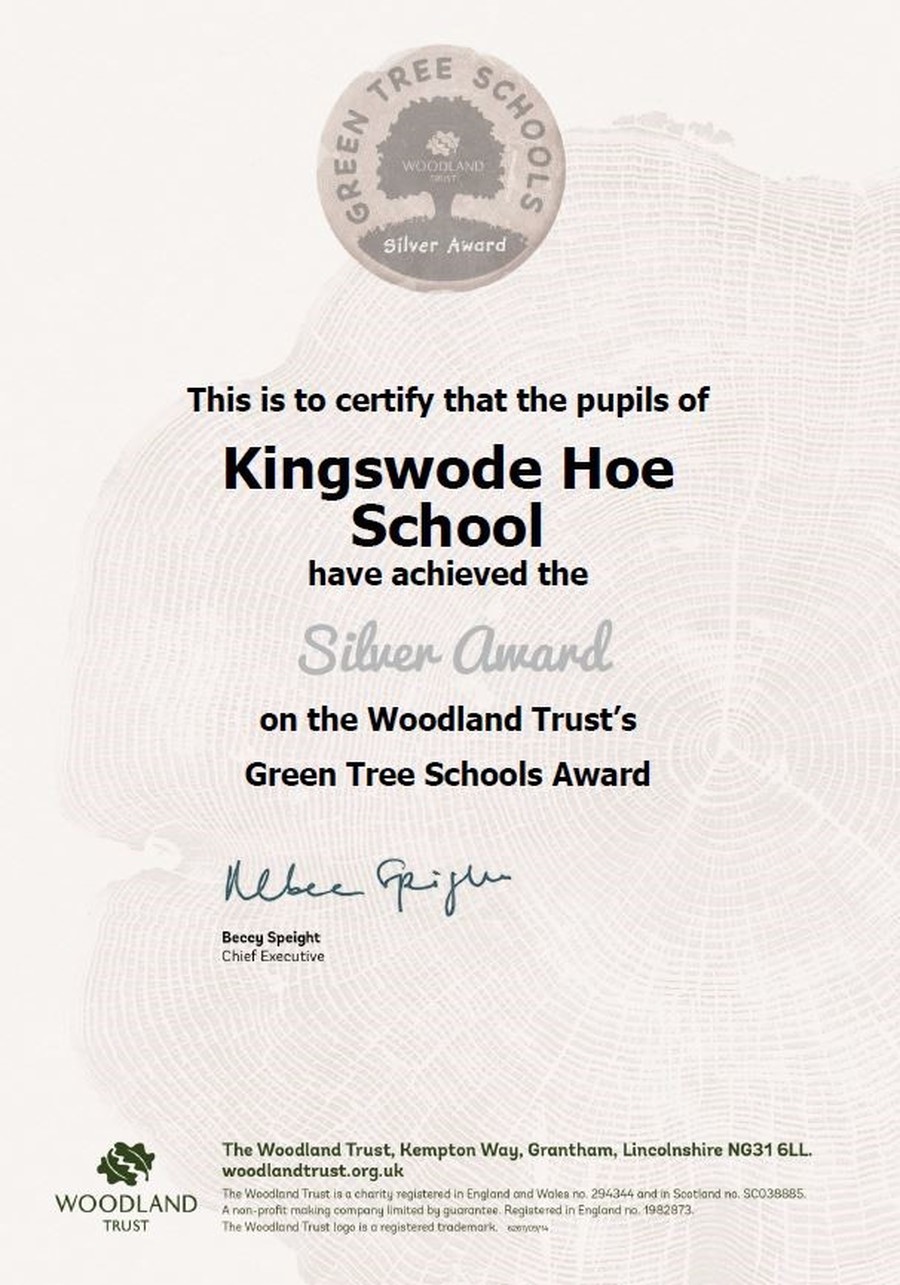 Staff at Kingswode Hoe have been busy preparing for the new academic year. This included updating our fire safety training.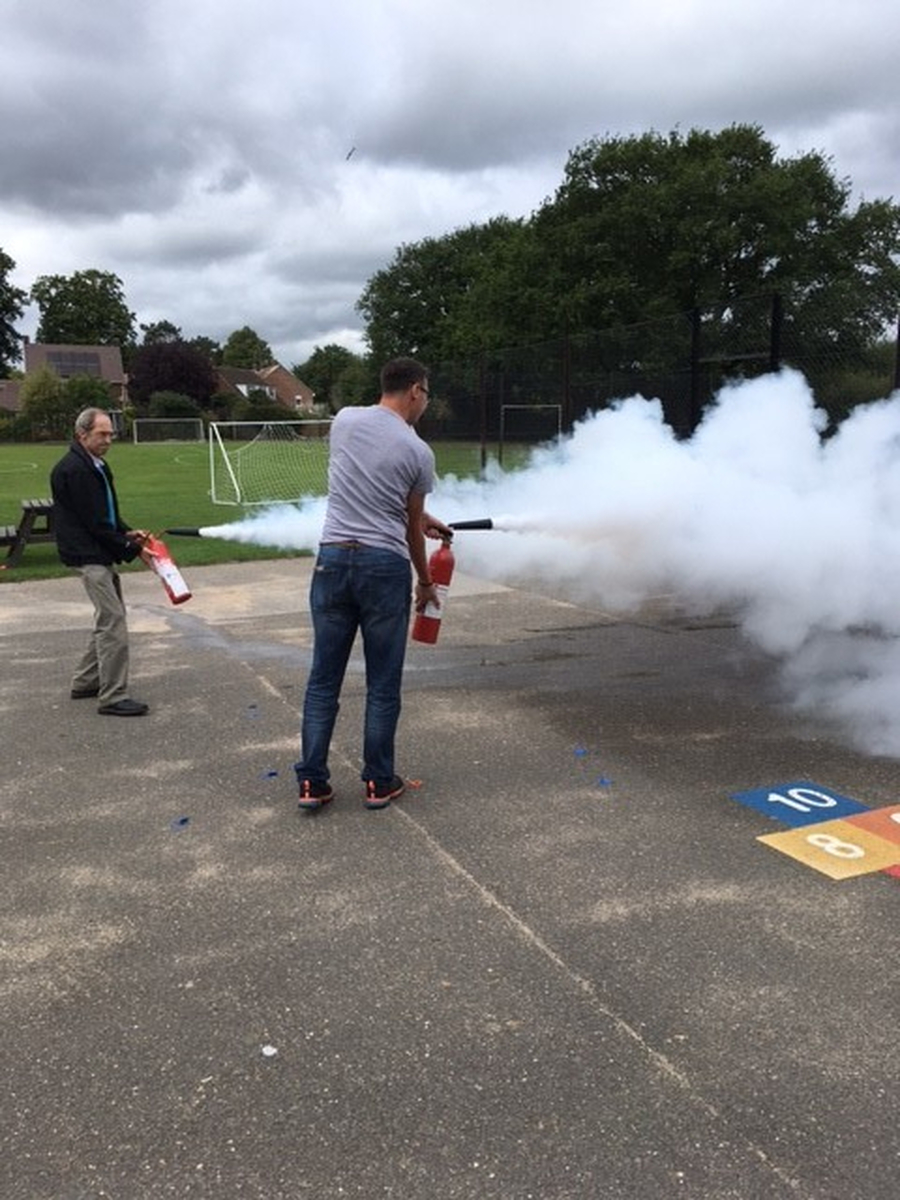 Thank you to Waitrose for donating £615 to the school.